Violinist of the L'Orchestre Philharmonique de Monte-Carlo, Graduate of Rice University's Shepherd School of Music and the Conservatoire de Lausanne. Founder of "ZHANGOMUSIQ", effective structure which connects artistic excellence and social involvement. Ambassador of the Nicolas Hulot Foundation for Men and Nature for environmental protection, and member of the strategic committee of The Sustainable Design School.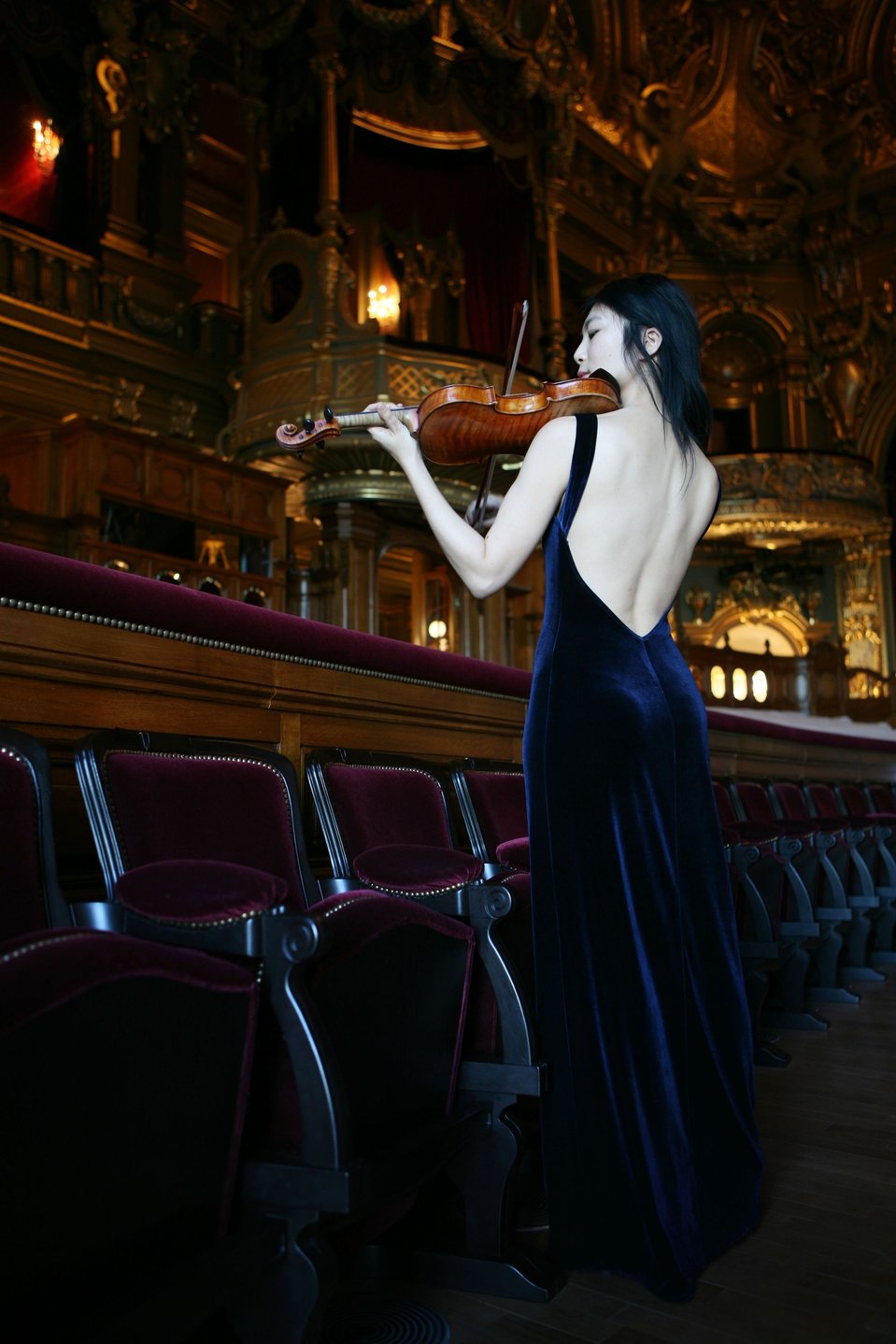 Musicartsnet : Can you please tell us more about yourself and describe your path leading up to today?
Zhang Zhang : I was born in Beijing to an artistic family. My father was a famous violinist in the 1960's and 70's. He was the concertmaster of Madame Mao's favorite orchestra, his performances were considered the «National Model», to be imitated and followed all over the nation. He even performed for President Nixon when the USA reopened relations with China. My mother was a cultural icon since her teenage years, a champion figure skater of the national team and a movie star by the age of 15. She was also a concert pianist, and a descendent of the 17th century author Pu Song Ling. When I was a child we were very poor, my family had lost everything during the Cultural Revolution, and in those days fame did not translate into material wealth. We lived in a 9 square meter room, my little brother and I slept on a broken sofa. We did not even have a table as there was no space. But we did have a piano. The wooden piano bench served as a dining table for us. It was in this little room that I began to learn music. Piano at the age of 2, violin at the age of 4. Shortly after I began to learn the violin with my father, he was arrested and imprisoned by Madame Mao for having openly defied her by attending the Tian An Men gatherings after the death of Premier Zhou En Lai, whom the intellectuals admired. It was only after Madame Mao herself was arrested that my father was released. After this ordeal, my parents decided to leave China. We left at the end of 1981, but my parents were told they must choose between their two children, as only one was allowed to go with them. I went with my parents and my 6 years old brother was left behind. That was the choice my family had to make at the time.

MAN : You are very much engaged in your actions to spread music within the world, towards an unexpected public. Can you tell us what is your philosophy on this subject?
ZZ : As a child living in Beijing, my brother and I were surrounded by classical music, I was however very interested in traditional Chinese music, as many amateur singers practiced in parks or even in the streets on summer evenings, and the national Peking Opera were often broadcasted on the public radios, my early childhood dream was to become a Peking Opera Singer in the Combatant role. I loved their colorful costumes and the stories based on historical legends. Even though the musical language was very different from what I was being taught at home, I was fascinated by that universe, it was the culture of my origins, yet it was a world I did not have access to as I was completely immersed in Western Classical Music. When we left China, we lived for a few years in Bangkok, Thailand, there I discovered another entirely new musical style and language. The traditional Thai dance and music seemed so mysterious to me as I could not identify their scale based on what I was learning in classical music. Later when I was a student in university, I explored the different ways of playing and sharing music by participating in a marching band that accompanied the football matches (I played the cymbals), and joining a jazz group that performed weekly at a local bar. It was frowned upon by some of my classical music peers and I had to hide it from my professors! All these encounters gave me a glimpse of other musical languages, and the artists who created them. As well as different kinds of public who might not have ever entered a symphony concert hall, but were no less enthusiastic and passionate about music.
MAN : And what does music mean to you?

ZZ : When we hear the phrase : Music is an Universal Language. What does it mean? I feel that many classical musicians assume it to mean OUR particular musical language is Universal, but I see it as in All musical languages are Universal. There need not be any frontier and boundaries between authentic musical styles. We all have our own choices and tastes, some of us prefer Bach, others may prefer Blues or Bossa Nova. All human cultures have their own musical identity, I believe in sharing and exploring. Bring our music to those who have not yet had a chance to know it, as well as go towards music and musicians that we have not yet discovered. We do not have to like all what we hear, nor does the public have to appreciate all what we do. The important thing is to have the desire and motivation to share and exchange. Music is a living culture, it is a very positive and essential part of humanity. I strongly believe that if children of all nationalities around the globe had access and the opportunity to learn and play music, even as a hobby, the World would become a much better place.

MAN : You've just lead an important project in Asia, can you tell us more about it?
ZZ : In the Spring of 2015, ZHANGOMUSIQ initiated a Charity concert tour to Thailand with my jazz band. We gave three different concerts, the first was at the Mahidol University in Bangkok, where the totality of the ticket sales went to benefit a scholarship fund for blind students studying music. The second concert was in a small village about 250 kilometers from the capital, for the village school in the middle of rice fields. The students had never seen a live concert before, the concert was held in a simple outdoor space, surrounded by farm lands. The entire village came to the concert. There were no walls to this hall and during our performance it started to rain heavily, several dogs came over to seek shelter. We continued to play, bare foot, as there was water on the floor. We decided that as long as the water was not pouring on the instruments we would not stop. Eventually the storm passed, and the sun came out again just before the end of the concert. The school was very poor, they had only three teachers, yet the children were so enthusiastic and lovely, attentive and mesmerized by the music they had never heard before, we promised we would return as soon as we could. It was a truly memorable experience. The third concert was organized by Dr. Ekktet Chansue, a leading international Eye Surgeon, in his private clinic. This concert raised more than 18.000 euros, which was entirely donated to a school on the border of Thailand and Laos, to help them build dormitories for students coming from remote villages. For this concert we performed to a more privileged community, the fact that a group of musicians coming from Europe to offer their music in order to help Thai children was much appreciated by the audience, many of whom donated generously to the project after the concert, which is exactly what we had hoped for. Presenting worthy causes to a wider public, in order to generate awareness and financial support for concrete and important projects. 2016 we have concert projects in Thailand, Hong Kong, China, India and Bangladesh. As well as supporting NGO's here in Europe.


MAN : The field of classical music is very conservative and it is often scared by new initiatives! What do you think of that?
ZZ : We have a very rich and beautiful heritage. One of the greatest artistic expressions of humanity. I think the idea of Conservation came with time, it was not the focus at the moment when these classics were still being created. The public used to eagerly await for Mozart's «Next» opera, or Schubert's new songs. They were the rock stars of their time, even if their material well being were not linked to their fame and talent. In the last hundred years so much has changed in our world. New technologies, new social order, new political structures…etc. We have now been accustomed to considering Classical Music as something that is from the past, to be preserved preciously though the artistry of living artists, generation after generation. We play the music of composers who are no longer living, we listen to the recordings of great soloists and orchestras that have passed on, we are in the habit of revering our «ancestry». And rightly so! What a glorious heritage it is! The concept of «conservation» has become so much ingrained in our way of thinking that it is difficult to initiate renovations, as many of us, as well as the public consider «perfection» has already been achieved. Just look at the difference between the stature of Contemporary Art and Contemporary Music in our society! There is much distrust towards the possibility of having our art form being distorted or misrepresented. I believe that the music itself is indeed «perfect», but how we «package» and present this art can be, and must be adapted to the actual context in today's reality. This in order for our art to thrive, or even to survive, for the ages to come.

MAN : At present, it is said in the classical music world, that it has never been so difficult to find funding. And yet your initiatives are meeting with resounding successes with private or institutional sponsors. What is your secret?

ZZ : We have a business model that is quite ancient, and for a long time it worked. Not any more. We can no longer assume that because what we do is important and essential to society that we will continue to receive the support we require from the State, the private sector, the management, and the general public. We must recognize and accept the reality we live in. And be aware of all the political and social challenges, which have effected the way «our business» is being conducted. The same sources that have historically provided us with financial support have now less to offer, or are less willing to offer, our public is shrinking compared to previous eras, like it or not, we must wake up to this harsh new environment where our art form is often considered as a luxury, a «non-essential dispensable divertissement». Even music lovers may sometimes choose to download concerts for free in their own leisure, rather than purchase a ticket to attend a live concert in person. We can criticize and condemn those who do not seem to understand or value what we do, but that does not provide a concrete solution. It is high time that we, the musicians, take the initiative of creating functioning innovations that will guarantee the continuation of our Art in the standard it merits.
MAN : Can you tell us about some of your innovative initiatives?
ZZ : More than 10 years ago I began to associate musical concerts with in progress humanitarian and ecological projects. Creating musical concerts where the totality of ticket revenues were donated to established NGO's working around the world. The costs of the logistics, including performances fees of the artists, were provided by various sponsors. The concept was quite simple : instead of the traditional two way relationship between the artist and the audience, we created a 4 way partnership : the artists who shared their music, doing what we loved to do. The audience who came to enjoy the music, plus having the added satisfaction of knowing their presence generated funding towards a worthy cause. The NGO who benefited from the concert both financially and in terms of wider public awareness, and the corporate sponsors who had participated in a concrete and worthy project providing positive publicity and public image.
MAN : Now let's go back to the question of seeking the financial support…
ZZ : Regarding seeking financial support : once I began to approach banks and entreprises for sponsorship, I realized very quickly that most business leaders are open to taking part in projects which combine cultural excellence and concrete projects benefiting society at large. I found the most successful approach was not one of : please help us because we need the money to create a concert…But rather : would you like to become a partner in this very worthy and exciting project? If the project is concrete, a precise objective with impeccable presentation is the best representation. In my experience, aside from the few private donors who often choose to remain anonymous, potential corporate sponsors are interested by clear and direct propositions which will benefit their companies' public image and social reputation. The key is to know how to prepare a presentation that will speak to the ones whose support we wish to solicit. We do not compromise on the artistic integrity of our art, but we do need to be aware of the world outside of our domain in order to become an active force in society as well as remain relevant in a fast changing world where not everyone appreciates fully the significance of our profession.
MAN : Can you be more specific about some of your achievements and mention some concrete projects?
ZZ : Since 2005, we have created more than 50 concerts, benefits including creating a School for Girls in Afghanistan, 10 roofs for post Typhoon in the Philippines, 2 fresh water wells for villages in Cameroon, 1 fresh water reservoir in Djibouti, aide for women war victims of the Congo, construction for a school playground in Japan after the Tsunami, medical equipment for a retirement home for the poor in Nice, funding for a rescue mission of Mediterranean Sea Turtles, injured by men-made devices such as plastic…etc. We also offer concerts to retirement homes, prison, and center for mentally handicapped persons, music is good for everyone! No project was too small for us, because each individual we are able to help is worthy of our attention and effort. And we have just launched ZHANGOMUSIQ North America, where a series of concerts are being offered to retirement homes of diverse ethnic communities in the city of Toronto. Here on a small scale, is a functioning model which brings together different elements of society towards a common goal, where live musical concerts offers not only artistic and cultural excellence but also acts as an active generator of positive change for society. If I have been able to generate the necessary support for these initiatives, (while maintaining complete artistic independence in terms of programmation, choice of venue…etc) it is mostly due to the combined elements of « win win » projects where everyone involved comes away with something positive. I believe this is an initiative all musicians can participate in, as individuals or as ensembles. The concept is validated, all we need is the desire to give it a try. ( See my TEDx Cannes 2014 talk «Music is a Powerful Instrument for Positive Change»).
MAN : An article in a Monaco based weekly presented you as « Zhang Zhang the atypical! » Do you feel that to be a compliment?
ZZ : I accept it as an honest reflection of my existence within the society I live in. We all have preconceived notions of ourselves and of others. Not to fit into a certain expectation can either be positive or negative. Being different is not the goal, what is essential is being authentic to who one truly is at any given time, accepting that the Self is changing and growing with time, with experience, hopefully becoming wiser, stronger, and able to contribute positively to the world. Sometimes it is important to be able to venture out alone, following one's convictions, even if no one else will. Other times, it is more important to respect the collective and try to work towards a common objective. When I was very young I wanted to belong to a community, to be part of something, to be like other children, to be «normal». And I did suffer from being singular, or deemed as «unusual», or «unexpected» due to circumstances or the path I had chosen to pursue. My mother was a celebrated beauty and film star in China, all through my childhood, people would look at me and question why I did not resemble her! By traditional standards I was not an obviously attractive child. Most disappointing to all those who expected me to inherit the maternal loveliness! Later when I was in school in North America, teachers would stare at my very poor scholastic achievements and wonder why I was so bad at math, and a number of other subjects besides! So unlike the other Chinese students! Over the years, I have come to accept the fact I would not be very good at being «normal», so it is a relief that there are those who can also accept this of me. Being seen as different, yet still genuinely accepted and appreciated by others is the greatest compliment and encouragement one can receive.
MAN: Is residing and working in Monaco an advantage for the development of your projects? Do the monegasque authorities understand the issues and participate to their development?
ZZ : Absolutely. I have been very fortunate to have had the support and encouragement of HSH Prince Albert II, as well as his government. The concept and tradition of Philanthropy is very strong and prevalent in Monaco, nearly everyone I know is an active participant in charity work, either donating their time or funding, or both. Generosity and compassion is part of everyday life, every week there are events created for various Charities. People are very aware of their privileged life styles and are absolutely ready and willing to give back to those who are in need. The Prince and his government is on the forefront of this philosophy.
MAN : You are also active in the defense of the environment. What are the links that you have established between your actions and classical music?
ZZ : As an Ambassador for the Foundation Nicolas Hulot, I am very much aware and involved in the race towards not only the defense of the environment, but also the absolute necessity of bringing greater awareness of the actual dangers our planet is facing to the public. If we can not maintain the necessary reduction of CO2 emissions to limit global warming, the future of humanity is absolutely at risk. On July 21st 2015, I participated in the Sommet des Consciences in Paris, where many world leaders and heads of different religions came together to share their concern and their engagement towards the imminent challenges we are all facing. One of the most moving moments was from the representatives of the Guarani~Kaiowa people, who spoke of their everyday struggles for survival in their ancestral lands being destroyed due to corporate greed and total lack of concern for the planetary environmental crisis. The summit served to encourage and propel world leaders towards the COP21 agreement. The signing of the COP 21 accords on December 12th, 2015 by 195 nations was a crucial moment for the future of Earth and the human race. As musicians, we have a stage, we have a public, we can also be messengers and initiators of societal issues which benefit the community we live in. Even if our art is often representation of the past, we are part of today's world and society, we can and should be an active, positive force for the future as well. We are not only cultivated conservators and curators of glorious historical arts, we should also be the creative and dynamic leaders of tomorrow.

Pierre-Jean Tribot-02/2016
Links :