Music&Arts Network assists artists on following aspects of their career:
Promotion of the artist (towards orchestras, music halls, festivals, etc.) and his projects (putting in touch with agencies and tour managers).

Researching repertoires and connections with composers.

PR and media's image development (beyond the direct production).

Connecting the artist with orchestras and labels for recording sessions.
Awarded the « Instrumental soloist revelation » by the Victoires de la Musique Classique in 2009, Romain Leleu, born in Lille in 1983, is considered one of the best trumpeters of his generation, following Maurice André's heritage.

After studying under Eric Aubier's supervision, Romain Leleu was accepted to the Paris Conservatory (CNSMDP) at the age of fifteen, where he won a first prize in 2003, followed by the Chamber Music Prize (both with honors). He went on to study with Reinhold Friedrich at the Karlsruhe Musikhochschule. Offering a large repertoire, from Baroque concertos to Contemporary music, Romain Leleu performs as a soloist with main French national and international orchestras (Orchestre National de Lille, Orchestre National d'Île de France, Orchestre d'Auvergne, Orchestre de l'Opéra de Marseille, Baltic Chamber orchestra, Württembergisches Kammerorchester, etc.). Romain Leleu is a regular guest at leading French and international festivals (Festival Radio France et Montpellier Languedoc-Roussillon, La Folle Journées Nantes, and others). He commissioned and premiered works of contemporary composers including Martin Matalon (Trame XII for Trumpet and Orchestra), Philippe Hersant (Folk Tunes for Solo Trumpet), Karol Beffa (Concerto for Trumpet and Orchestra, Subway for Trumpet and Piano), Jean-Baptiste Robin (Récits Héroïques for Trumpet and Organ).

As for the chamber music, Romain Leleu's regular partners are organists Thierry Escaich and Olivier Vernet,pianist Igor Tchetuev, and the Ensemble Convergences. Romain Leleu is the ADAMI "Classical music revelation" of 2005, winner of the International Contest of Lyon Chamber Music (2005), of the International Contest "Lieska Brass Week" in Finland, of the FMAJI (1999), of the "Group Banque Populaire Foundation" (2009), of the SAFRAN Foundation for Music (2010), and awarded with the Prize ofthe Del Duca Foundation – French Fine Arts Academy (2011).

Romain Leleu records under the Aparté/Harmonia Mundi and Sony labels. All his recordings gained a huge success among the public and music press (RTL Gold Classic, Diapason 5, Radio Classique selection, Pizzicato, Resmusica, etc). Romain Leleu regularly gives international master classes in France and abroad (Regional and Superior Conservatories, Seoul National University, Tokyo College of Music, Cincinnati Conservatory of Music, Merida International Brass Academy in Mexico, Cagliari International Summer Academy, and so on). He has a permanent teacher position at the Conservatoire à Rayonnement Régional d'Aubervilliers (CRR 93) and he is also an editor of trumpet collection scores in Editions Billaudot, Paris.Romain Leleu is a B&S-Buffet Group artist.

Romain Leleu is under the management of Caecilia Agence de Concerts et Spectacles in Geneva.
Romain Leleu & Ensemble Convergences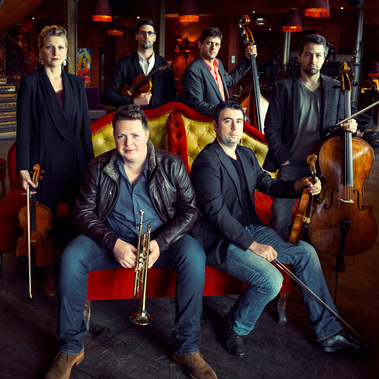 Since 2010, Romain Leleu associated with a string quintet whose members come from the finest French orchestras to create the Ensemble Convergences.

Associating trumpet to a string quintet and the ensemble's spontaneity enable to create a diverse program that covers compositions from Baroque until the original works of Contemporary music. Convergences and Romain Leleu also seek out their own new repertoire and have works specially arranged for their performances. Their aim is to renew the old recital formula and thus bring down the barriers of style and period, to create fresh inspiration for Romain Leleu's instrument. Their approach is based on energy, sensitivity and a mixture of genres. The ensemble is regularly invited to major international festivals, such as Festival de Colmar, Festival de Sully et du Loiret, Festival de la Vézère, Les Musicales du Golfe du Morbihan, Salle Gaveau Paris, Flâneries Musicales de Reims, Jeudis Musicaux de Royan, Antibes Festival, Victoires de la Musique, Festival d'Auvers sur Oise, Festival Classique au Vert in Paris and many others. The musicians love meeting new audiences and so the ensemble was recently on tour in Algeria, Morocco, Belgium and Switzerland. Highlights of this past season for Convergences and Romain Leleu include performances at Château de Chambord, Festival du Comminges, Clermont-Ferrand Opera, Pornic Festival, Festival des Forêts, and concerts in Belgium.
Music&Arts Networks'Mission
In association with his management, Music & Arts Networks provides support to Romain Leleu and Ensemble Convergences in terms of strategical advising on national and international promotion (orchestras, music halls, festivals and touring).
Artistic consulting : repertoire's development,commissions, orchestrations, partnership with publishing houses, ...

Advising on recording and multimedia prospects, learning programs (masterclass) and pedagogical aspects.

Jean-Pascal Beintus was born in Toulouse on 1966. He grows up in Nice and starts his musical education at the local Conservatoire (Double bass, piano and composition) and joins the Conservatoire National Supérieur de musique de Paris and Lyon. In 1983, he is appointed bass player at the Opera National de Lyon under Sir John-Elliot Gardine. Fond of his orchestral job, discussing with his colleagues and conductors, in parallel he continues to compose and proposes a Concerto for Doublebass and Orchestra (Samskara).
In 1996, Kent Nagano, Opéra de Lyon's Music Director, decides to promote Jean-Pascal's works and commissions him several scores for his seasons. A new road is open for Beintus and he decides to start an official career of composer. Until now, he composes for the Opéra de Lyon, Berliner Philharmoniker (Variations on a Gershwin's tune for piano duet and orchestra), Hallé Orchestra Manchester (Couleurs cuivres, concerto for brass quintet and orchestra), Berkeley Symphony Orchestra (Luna tree), Accademia de Santa Cecilia Roma (Concerto for Clarinet – dedicated to Alessandro Carbonare), Deutsches Symphony Orchester Berlin (Le Petit Prince, Suite), Russian National Orchestra (Wolf Tracks – recorded on Pentatone by B.Clinton and M.Gorbatchev – Grammy Award).
Since his childhood, big fan on John Williams, Jean-Pascal dreams to compose for movies and he fills his dream joining Alexandre Desplat' staff as first assistant and main orchestrator. With Alexandre Desplat, Jean-Pascal works on all the main last decade's international blockbusters : Harry Potter, King's Speech, Argo, Imitation game, Monument's name, Zero Dark Thirty, Tree of life, etc.). Beintus composes his original movie soundtracks for Leonardo di Caprio's documentaries (11th hour and Carbon).
Music&Arts Networks's Mission
Consulting Jean-Pascal Beintus on the development of his orchestral music projects and on his musical catalog besides film music.
Consulting and artistic support for special projects: Music Advisor on the Michel Cymès' documentary : Hippocrate aux Enfers (France 2 Channel-2017. Jean-Pascal Beintus : original score – Renaud Capuçon and thze Capuçon Quartet).
Propagation and diffusion of concert music for violin, harp and chamber orchestra, based on Saint-Exupéry's Le Petit Prince.